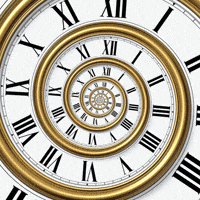 I've visited various bits of France and Italy as well as zooming over a significant portion of the British Isles. Some of the trips were with friends and family, some were with Dog and some trips were on my own. All of them taught them just little more about who I am and what makes me tick. Walking is one of those things and I'm looking forward to covering many more miles of the British countryside in the next ten years.
I've written nearly a million words of stories and had one of those stories published in a real book that I can hold in my hands. A quarter of a million of those words were fan fiction that has been shared under various user names on AO3 and through that I met lots of wonderful people, many of whom have become friends who have enriched my life in an number of ways.
I completed the OBOD training to become a Druidic bard (which gave me a new way of thinking about my faith and my place on this earth) and expanded my tarot reading skills and tarot card collection. I have taught myself to crochet and to play the ukulele and I have found time to draw and paint and get better at photography. I've spent a lot of time at various theatres across the country immersing myself in the joy of plays and seen quite a few in cinema (thanks to NT live) as well. I've returned repeatedly to Gladstone's Library and the Chalice Well Garden, both places that sooth my soul and expand my brain in different ways.
And I've read books. Lots and lots of books. Nearly a thousand over the decade I think, although the record keeping was patchy at the start so I can't give an exact number; fiction of every conceivable genre and non-fiction on many, many different subjects. But this is not a new thing. Books have been a constant in my life from as far back as I can remember and they have helped me through many different and difficult things. I can't see the next decade being much different in this respect.
My blog, on the other hand, has waxed and waned with the years; this post is, in fact, the first I've made for 2019. That isn't because I've forgotten that it's here but rather due to the fact that 2019 has been a year of re-assessing a lot about my life and what I do and don't want to spend my time on. Plus I've been healing my body and mind from the mess that working at Carillion had left me in and grieving for Marmite Dog, who died in July 2018. I initially thought the best way to do both those things would be to write stories to share but instead I found myself focusing my attentions on personal journaling and working on forms of creativity that did not use words. This lack of output for external consumption was an absolutely necessary break. My word well had run dry (the four year WWI blogging project being the main culprit) and needed refilling with sparks of ideas and fantastic dreams and the joyousness of immersing myself in new things and new subjects. I needed time to produce things that were frivolous and personal and ridiculous, things just for me and no one else.
Now, though, I'm ready to create for more than just me again so there will be blog posts and reviews and photos and the written equivalent of "I found this pretty thing on a walk and wanted to show you". As I'm also going to be attempting to move my parents and myself from our current habitations to the glorious county of Northumberland during 2020 I'm not going to set a posting schedule as such. Instead I'm aiming for at least one post a month if not more but I'm not going to beat myself up if packing boxes takes precedence. That said, if there is something you'd particularly like me to write about or turn into a story, please do let me know; I love prompts and if I can them I will.
And so, last but by no means least, I wish you all a very Happy New Year and hope that both year and decade bring you peace, joy, and success in all your endeavours.